Panel de Control de Administración
También disponible en Deutsch, English, Français y Русский
1. Configuración
1.1. Crear una contraseña de recuperación
to login define the recovery_password in the config/config.php file first

Call the {{admin_recovery}} action as Admin and generate the password hash for your recovery_password
Add the password hash: 'recovery_password' => 'add hash here',

Don't forget to delete the _cache/config/config.php afterwards. (manually or via the admincache action)
Call yourwiki/admin.php
Enter your recovery_password
1.1.1. Ejemplo
Create password hash

1.2. Modi

Hay dos Modi (config/constants.php)
define('RECOVERY_MODE',	1);

para restaurar o reparar la base de datos, no se requiere acceso a la base de datos, sólo se dispone de un subconjunto de módulos

define('RECOVERY_MODE',	0);

ya debe haber iniciado sesión como miembro del grupo Admin para acceder al Panel. (default)
2. Iniciar sesión
Iniciar sesión como administrador en la Wiki
Call https://wiki.example.com/admin.php (without mode_rewrite /?page=admin.php)
Introduzca la contraseña de recuperación que creó anteriormente.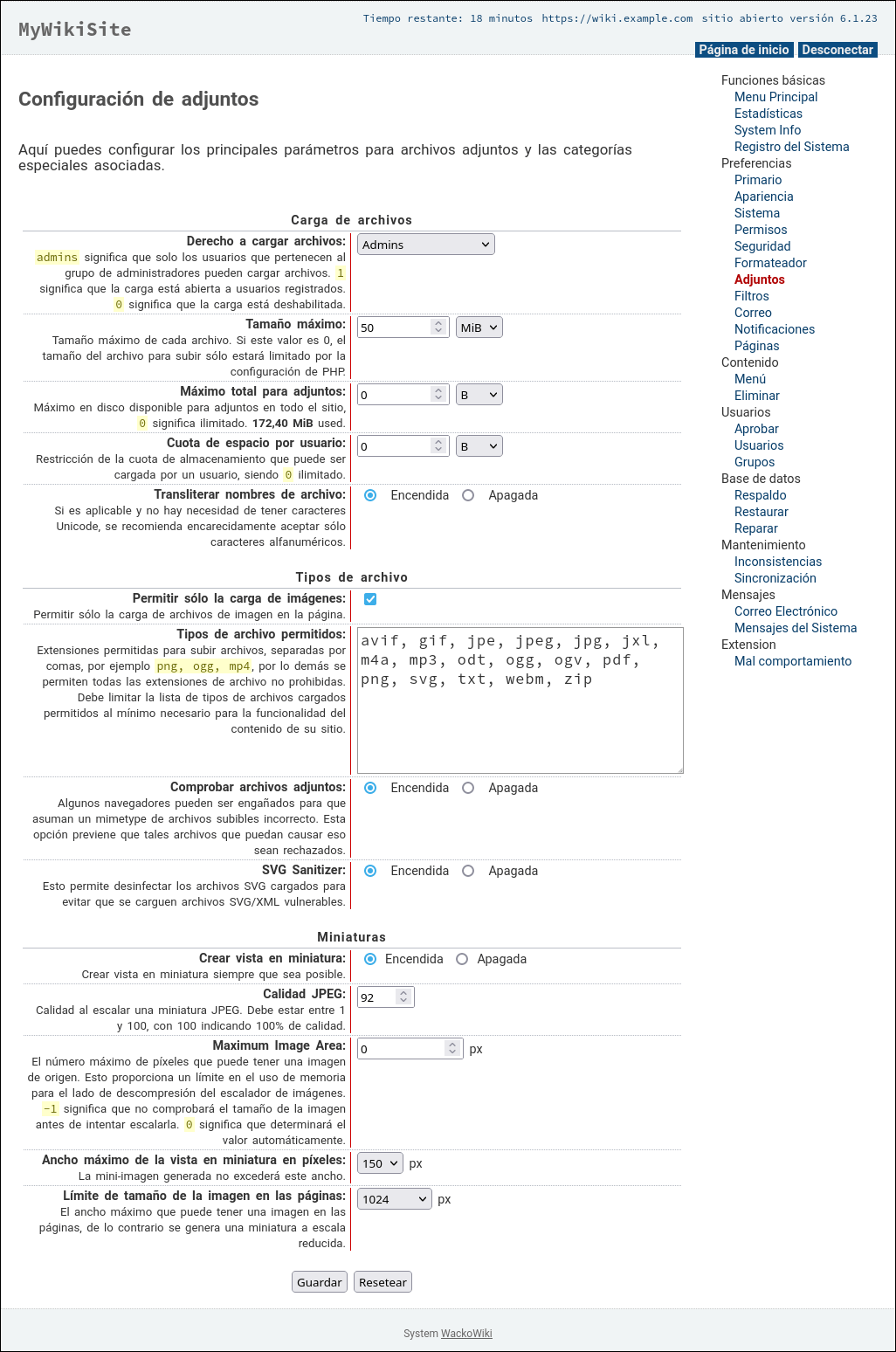 Revise las secciones Preferencias para asegurarse de que los valores de los ajustes predeterminados son aceptables para usted; cambie lo que no sea apropiado para usted.
Uno de los principios de seguridad más sabios dice que lo que no se usa debe deshabilitarse. Así que la primera pregunta es: ¿De verdad lo vas a usar? ¿Necesita que esté habilitado?
3. Protege tu panel de administración
Siga esta política de seguridad para proteger su sitio de hackers e infracciones de seguridad.
Elija una contraseña segura
Límite de intentos de inicio de sesión
Requiere HTTPS/TLS para todas las páginas con inicios de sesión
No uses la contraseña de tu panel de administración para nada más.
Usar una ruta de administración personalizada
Restringir el acceso del administrador sólo a las direcciones IP aprobadas
3.1. Admin Panel Lock
The site is temporarily unavailable due to system maintenance. Please try again later.
If your Admin panel gets locked reset config/lock_ap from 1 to 0.
El bloqueo se produce cuando la contraseña se ha introducido incorrectamente de forma repetida y es una medida para mitigar los intentos de obtener acceso no autorizado.