Hack: Bad Behavior for WackoWiki
It is not in Bad Behavior release yet, so you can download it here:
1. About
Bad Behavior is a spam protection system that detects and blocks unwanted Web accesses.
2. Download
1. Bad Behavior:
2. Bad-Behavior plugin for WackoWiki:
Put the files in the following folders:
file
folder
notes
1. Bad-Behavior
bad-behavior/
lib/bad_behavior/
move the entire bad-behavior/ folder here
whitelist.ini
lib/bad_behavior/
you must create this file, see whitelist-sample.ini
2. Bad-Behavior plugin for WackoWiki
tool_badbehavior.php
admin/module/
optional, allows you to check the logs, access via admin panel
bad-behavior-wackowiki.php
lib/bad_behavior/
plugin for WackoWiki
settings.ini
lib/bad_behavior/
see Configuration
3. Installation
WackoWiki does not support automatic installation of plugins, so a few manual actions are needed
First, download latest Bad Behavior release from official site and unzip to your site directory (I guess you've already done that). Then unzip "bad-behavior-wackowiki.zip" into the Bad-Behavior folder (so that "bad-behavior-wackowiki.php" and "bad-behavior-generic.php" reside in one folder).
Then open "index.php" (located in root directory of you WackoWiki) in editor and find this line:
Insert the following line just BEFORE the located line:
require_once('lib/bad_behavior/bad-behavior-wackowiki.php');
If you like to enable "screener" cookie for advanced protection, go to /themes/YOUR_THEME/appearance/ folder (where YOUR_THEME is the name of theme used on your site), open "header.php" in editor and add the following line somewhere (e.g. before the closing "</head>" tag):
<?php bb2_insert_head() ?>
That's all – now go to your site and check if it is still working.
3.1. Configuration
still uses the settings.ini
lib/bad_behavior/settings.ini

; settings.ini

[settings]
display_stats = true
strict = false
verbose = false
logging = true
httpbl_key = ""
httpbl_threat = 25
httpbl_maxage = 30
offsite_forms = false
eu_cookie = false
reverse_proxy = false
reverse_proxy_header = "X-Forwarded-For"
;reverse_proxy_addresses[] = 
;reverse_proxy_addresses[] =
4. AdminPanel Module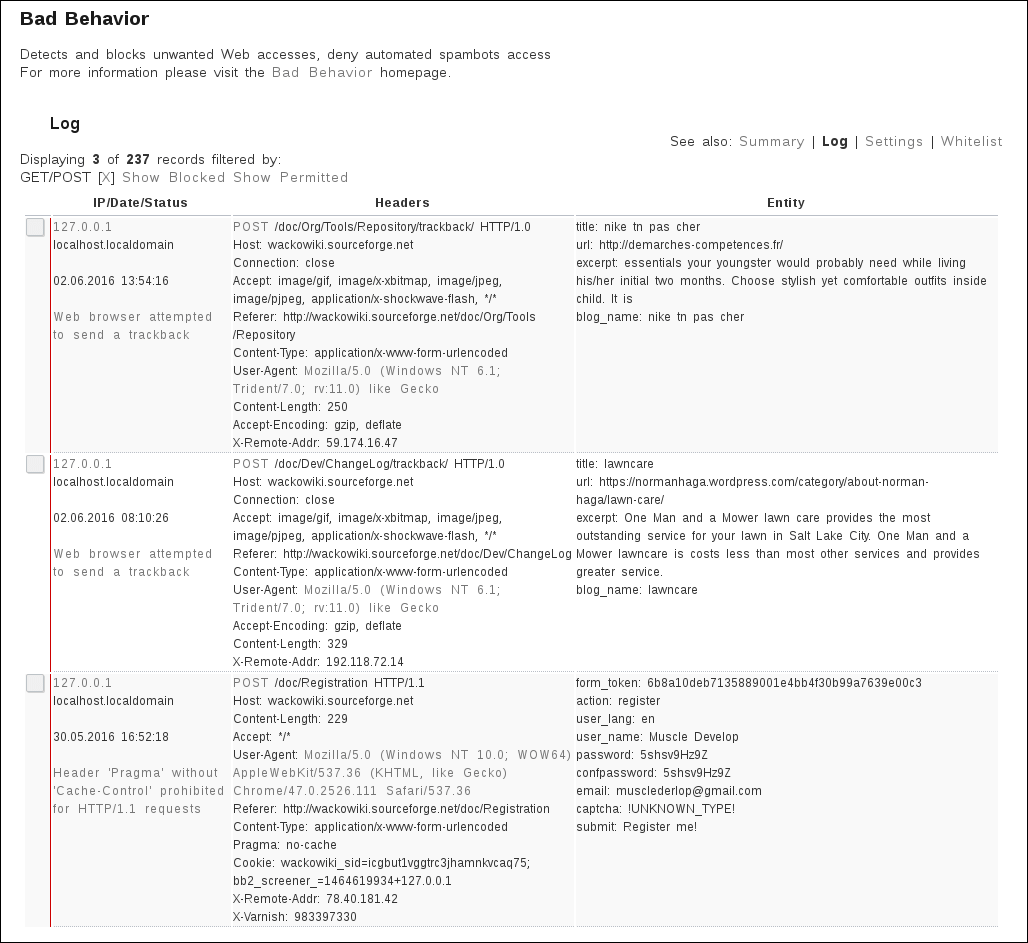 5. Changelog
0.1 Intitial version
0.2 Ported to WackoWiki 5.1.0
0.3 Added module for Admin panel
6. To Do
make use use of secondary config
add notes for ideas, improvements